As the name suggests, Greenness strive to be as green as possible in all aspects of their creativity. The music and entertainment industry can be extremely wasteful and polluting, which is why it is especially crucial for artists to be aware of this and to imagine new, greener ways of making art.
Greenness is a band that believes in spreading awareness and changing attitudes through meaningful songwriting and peaceful activism. This includes writing lyrics that explore a deeper connection with nature, touring by train rather than plane, avoiding non-reusable plastic bottles and cups at gigs, buying second-hand instruments and gear, making sustainable merch and choosing to perform at events that really try to reduce their environmental impact as much as possible. Here are some examples of green initiatives and festivals in which Greenness has taken part:
VegFest UK, Small World Festival, Soundscape Solar-Powered Stage, Vegan Food Bank Fundraiser, Vegan Beer & Cider Festival, Wildlife Rescue Fundraiser, Extinction Rebellion's Rebel Rising Festival, Music Declares Emergency, The Real Junk Food Project, CleverGreen Festival, Art For The Planet, Green Gathering...
If you run an eco-friendly event and are looking for live music acts that share your values, Greenness would love to hear from you. Feel free to send a message to contact@greennessmusic.com for all booking enquiries.
Thank you for making a difference!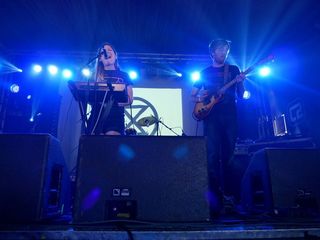 Greenness performing for Extinction Rebellion in 2019. Photo credit: Joe Taylor.
By signing up you agree to receive news and offers from Greenness. You can unsubscribe at any time. For more details see the privacy policy.